Every County Jail, and each State and Federal Prison has its own specific policies regarding Inmate Visits
. You should check with that facility's rules and regulations and especially their Visitation Schedules. These are a few general guidelines which they all follow.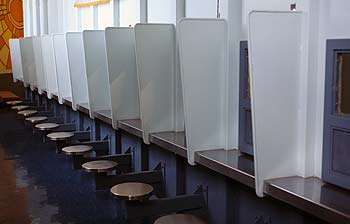 [/caption]
WARNING - Take these Visitation Guidelines Seriously!
Failure to adhere to these guidelines will either make your trip a wasted one or worse, prohibit you from ever going back. Even more troubling, some violations of the jail's rules could land you in jail as well. Never have in your possession drugs or alcohol of any kind, nor be under the influence while visiting a jail or prison. In some jails and prisons possession of tobacco on their property could land you in serious legal trouble.
Do not take any chances. Lockup facilities take their guidelines VERY seriously.
For a list of Guidelines and Schedules for your jail or prison, use the JAILexchange Search feature to search Visitation Rules for every one of America's 9,000 US Jails and Prisons.
General Guidelines
When visiting, each visitor age 16 or older must have one of the following unexpired types of identification:
Driver's license
Federal, state, local government identification card (any state)
Military identification
Passport
U.S. Immigration identification (including visas)
Border crossing card issued by the United States Department of Justice
Current high school identification
Matricula Consular ID card issued after April 22, 2002 by the Consul General of Mexico
Walk-in visits will be accepted, on a space available basis—and first come, first served—as long as the visitors check in one hour before the visit time. Once a visit is scheduled, no "add-ons" will be made over the phone. Additional visitors may be allowed, up to the maximum of three, by arriving one hour prior to the visit and checking in with the other visitors. Cancellations are not accepted over the phone. However, due to security reasons, many jails do not accept "walk-in" visits.
While jails attempt to honor all visit reservations, visits may be changed or cancelled without notice. Also, changes in the inmate's housing assignments may automatically cancel a scheduled visit. Visits will not be scheduled if the inmate has been previously scheduled for court on the same date.
Many jails require that the visitor be approved in advance by the inmate they wish to visit.
Many jails require a visit to be scheduled using a form filled out in advance and submitted for approval to the jail.
Visitors must usually check in together one hour before the scheduled visit. If a visitor is late, the visit may be cancelled.
A maximum of 3 visitors (including children) may visit an inmate at any one time, and only one visit is allowed per day. Some jails only allow one or two visitors at one time.
Most jail visits are limited to 15-30 minutes in length. Frequency of visits depends on the jail. Some allow only one, others as many as five, although that is rare.
Minors must be accompanied by their parent or legal guardian.
Visit times are subject to change or cancellation due to facility security or disciplinary reasons.
Disabled access visiting areas are available in some jails. If you have special needs, please inform the staff when you reserve the visit.
Young children are allowed, however if they are excessively noisy or unruly, the visit will be terminated.
If you are on probation, Watch Commander approval is necessary to visit.
There is no expectation of privacy in a jail facility. Social visits may be monitored or recorded.
Standard Dress Code: No strapless garments, no halter-tops, no bare midriffs, no see-through, wrap around skirts, tops or dresses. No mini-skirts or short dresses. Shorts must not be shorter than mid-thigh in length. No slits on skirts or dresses. No latex or skintight pants, skirts or shorts.
If you have previously been convicted of a felony and served time in a jail or state prison, you may not enter the grounds of a County Jail without the permission of the Facility Commander. That permission should be obtained in writing before attempting to schedule a visit. Entry to the facility grounds without such permission is a felony in some states.
An excessive pattern of late arrivals or "no-shows" for visits will result in the loss of phone reservation privileges or the suspension of visits.
'Contact Visits'
Some jails allow 'contact' visits, though this is rare. The following additional visit regulations must be observed when having contact visits:
Nothing is to be brought into the facility except I.D. and car keys. One blanket, one diaper, and one bottle can be brought in for a baby. The following items are specifically prohibited: purses or bags, food or beverages, pets, firearms, knives, or other weapons, drugs or alcohol, and cigarettes. Keys are to be hung on board provided. All visitors must have a reservation to visit.
No reclining together on the floor or tabletops. Visitors and inmates must sit across from each other, no laying or sitting on laps, no draping of legs, no body rubs/massages, no hugging, no straddling benches. Usually a single kiss is allowed at the start of a visit and again at the conclusion.
Jails and prisons have strict guidelines for a reason, the safety and security of the staff and other inmates. Please check with the facility regarding their rules and schedules before considering an inmate visit.
______________________________________________________________________
To conduct a free Inmate Search for any one of America's 9,000 Jails and Prisons, click here.
To lookup Visitation Rules and Schedules for any one of America's 9,000 Jails and Prisons, click here.