For the second year in a row, in the one year period ending June 30, 2010, the number of inmates in city and county jails in custody has declined. The purpose of this article is to present you the most relevant numbers as presented by the US Department of Justice, Bureau of Justice Statistics. This does not include inmates incarcerated in state or federal prisons.
The Numbers
The average number of inmates in US City and County Jails on any given day for the period from mid-year 2009 to mid-year 2010 was 748,728, a decline of 2.4% from the previous year. The jail incarceration rate decreased to 242 jail inmates per 100,000 US residents, the lowest it has been since 2003. The BJS has been tracking this data since 1982, after the US began seeing an explosion in those arrested and jailed in jails and prisons. According to the BJS, this decline was centered on large jails only, those who incarcerate 1,000 inmates or more. Small jails, those with an average daily inmate count of 50 or less, and medium size jails with an inmate count up to 750, actually saw increases in their daily populations. Demographic Breakdown Nationwide
Adults made up 99% of the jail population.
Males 87.7%
Females 12.3%
Whites 44.3%
Blacks 37.8%
Hispanics 15.8%
Inmates Convicted  61.1%
Inmates not Convicted  38.9%
US Immigration and ICE Inmates 3.5%
These percentages have remained stable since the report from the year 2000.
A Deeper Look into the Jail Populations
Only six of the large jails nationwide reported major declines in population, resulting in 46% of the nationwide decline.  They are:
Los Angeles County with a decline of 3,007 inmates
Maricopa County, AZ    1,196 inmates
Orange County, CA    1,143 inmates
Philadelphia    1,111 inmates
Fresno County, CA    1,105 inmates
Harris County, TX    1,096 inmates
One-third (57 total) of large jails actually reported an increase in their population during the period in this report, while the smaller jails saw increases generally nationwide. Local jails admitted almost 13 million inmates during this period, or about 17
times
the actual population on an average given day. Bed space utilization was about 86% of their rated capacity and reached a high in June 2010 at 91% utilization.
Jail Beds
In 2010 there were enough jail beds to hold 866,974 inmates, an increase of about 17,000 over 2009 and a 210,000 increase over the year 2000. The number of beds by jail size breaks down as follows: 50 inmates or less     22,806 50-99                         37,460 100-249                     88,750 250-499                    106,826 500-999                    121,704 1,000 or more           371,181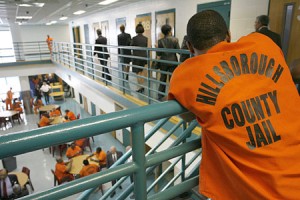 The Top 50 Largest Jails
The following is a list of the largest Jails in America, based upon the average daily population of inmates incarcerated.
JAIL                                                Number of Daily Inmates
Los Angeles County, CA                  16,862
New York City, NY                            13,049
Harris County Texas                         10,242
Cook County, IL                                  9,586
Philadelphia City, PA                          8,804
Maricopa County, AZ                          8,055
Dallas County, TX                               6,865
Miami-Dade County, FL                      5,770
Shelby County, TN                              5,766
10.  San Bernardino County, CA                5,755 11.  Orange County, CA                             5,134 12.  San Diego County, CA                        4,848 13.  Broward County, FL                            4,583 14.  Alameda County, CA                           4,305 15.  Sacramento County, CA                      4,199 16.  Bexar County, TX                                 4,169 17.  Jacksonville City, FL                            3,835 18.  Baltimore City, MD                               3,701 19.  Orange County, FL                               3,604 20.  Santa Clara County, CA                       3,587 21.  DeKalb County, GA                              3,560 22.  Davidson County, TN                           3,551 23.  Orleans Parish, LA                               3,522 24.  Riverside County, CA                           3,410 25.  Hillsborough County, FL                       3,340 26.  Tarrant County, TX                                3,248 27.  Allegheny County, PA                            3,233 28.  Pinellas County, FL                               3,225 29.  Gwinnett County, GA                             3,198 30.  Clark County, NV                                   3,158 31.  District of Columbia                               3,102 32.  Palm Beach County, FL                         2,901 33.  Milwaukee County, WI                           2,710 34.  Travis County, TX                                  2,691 35.  Bernalillo County, NM                            2,689 36.  Kern County, CA                                    2,483 37.  Cobb County, GA                                   2,369 38.  King County, WA                                    2,343 39.  York County, PA                                     2,284 40.  Suffolk County, MA                                 2,280 41.  Mecklenburg County, NC                       2,274 42.  Fulton County, GA                                  2,269 43.  Polk County, FL                                      2,268 44.  Salt Lake County, UT                             2,196 45.  Essex County, NJ                                   2,151 46.  Denver County, CO                                2,101 47.  Oklahoma County, OK                           2,100 48.  Marion County, IN                                  2,096 49.  Clayton County, GA                                2,080 50.  Franklin County, OH                               2,041 Overall, several of the larger jails have seen a slightly reduced number of inmates in custody, while the majority of jails nationwide have seen an increase. Nothing much has changed however, as the United States continues to lead the world in having the largest percentage of a population incarcerated.
Go here to find an inmate in a jail or prison in America, anywhere, anytime, on any device.
To view or download the full report from the Bureau of Justice Statistics, click here.