What Commissary & Care Pack Items can you purchase for an Inmate at Johnson County Jail - Olathe Detention Center?
These are just a few of the Gift Packs available for you to purchase online at Prodigy / Jail ATM and have delivered to your inmate at Johnson County Jail - Olathe Detention Center.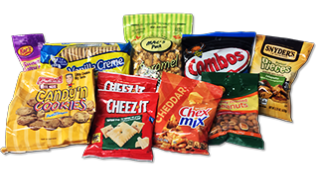 COFFEE BREAK
This Pack Contains: 2 Colombian Coffee, Capaccino Vanilla 3 PK Sweetener, Creamer Packs, Hot Chocolate 2 PK, Dunkin Sticks Box Toaster Pastry Box, Nutrigrain Bar.

FIERY HOT
This Pack Contains: Hot Fries, JP Cheetos, Flaming Peanuts, JP Pretzel Pieces, Hot Pork Skins, Spicy Salsa Rounds, JP Cheddar Crackers, 3 JP Cheese Squeezers, Hot & Spicy Sausage, Pepper Jack Cheese, Snack Crackers, Fireballs, Ranch Dressing.

NOODLE PACK
This pack contains: 4 Chili Ramen, 4 Cajun Chicken Ramen, 4 Picante Beef Ramen, 4 Chicken Ramen, 4 Beef Ramen, 4 Shrimp Ramen, Snack Crackers, Beef and Cheese Sticks 2PK, Gold n Chees 3PK.

SIMPLY BASICS
This Pack Contains: 4 oz Shampoo, 4 oz Conditioner, Dial Soap, Colgate Toothpaste, 4 oz Body Lotion, Deodorant Stick, 4 Stamped Postcards.

SWEET AND SALTY
This Pack Contains: Sweet & Salty Trail Mix, Popcorn, Pretzels, Sunflower Kernels, Lays Chips, Gold n Chee Honey Roasted Peanuts, Crunch Munch, Honeybun, Blueberry Blaster, Peppermint, Jolly Rancher, Snickers, Three Musketeers.

SWEET TOOTH
This Pack Contains: Kit Kat, M&M Plain, Snickers, Three Musketeers, Butterfinger, Peanut Butter Cups, Iced Honeybun, Caco Choc Cookies, Nutty Bar, Box Peppermints, Butterscotch, Chic O Stix.

THE MONSTER
This Pack Contains: 3 Postcards, Writing Pad, Crossword Puzzle, Cinnamon Roll, Iced Honey Bun, Swiss Roll, Box Butterfinger, Cookies, Sour Cream and Cheddar Chips, Doritos, Honey Mustard Pretzels, M&M, Peanut Butter Cups, Sour Fruit Balls, Trail Mix, Snack Cracker Box, Cheese Squeezer, P'nut Butter Squeezer, Jelly Squeezer, Beef Sticks, Orange Drink Mix 6pk.