Understanding ICE Detention Centers and Illegal Immigrant Deportation
What is an ICE Detention Center?
Men, women, and children that are in the United States illegally and are apprehended by the US Border Patrol or ICE will most likely be placed in removal proceedings and may be detained in one of the more than 200 jails and detention centers that make up ICE's detention system.
Many of the illegal immigrants that are detained are held in county and local jails that contract with ICE to detain immigrants. The rest are held in dedicated immigration detention facilities run by ICE or contracted to private prison corporations, including family detention centers that hold mothers and children.
What Determines if an Illegal Immigrant gets Detained?
ICE will typically detain an immigrant because DHS (Homeland Security) believes that an illegal immigrant is either a "flight risk" and may move to another location within the U.S. or that they pose a public safety threat. Detaining the person allows the government to guarantee that the person will show up for their hearing before an Immigration Court.
Some of the reasons that causes an illegal immigrant to get arrested and held in detention prior to their day in court is as follows:
The illegal immigrant has:
committed a crime, or multiple crimes
arrived at the border without a visa prior to formally applying for asylum or refugee status
an outstanding removal (deportation) order on record, either pending or past due, or
missed prior immigration hearing dates.
How do you find someone that is in an ICE Detention Center?
The first step to finding out if an illegal immigrant is in ICE or DHS custody is by using the ICE Detainee Locator.
It's easier to find the person if you have an Alien Number (A#), if one exists. A green card or work permit will show this number. If you don't have an A# the person is much more difficult to locate.
The information you will need is as follows:
the person's full name as it appears in the ICE System. The exact spelling and the order of how the name is listed is required.
the person's date of birth
the person's country of birth
If you are having difficulty, try different spellings and the order of how the name is listed.
If the illegal immigrant was only recently detained, the ICE Detainee Locator may not be updated with the latest information. Keep in mind that ICE does not give information (online or over the phone) for people under 18 years of age. In such cases, you can only get information on them from the ICE Enforcement and Removal Operations field office nearest you.
If the person you are looking for is not in an ICE Detention Center, they may have been taken to a local jail that contracts with ICE, so contact their local City and County Jail, all which can be found here.
Another option, short of the expense of hiring an Immigration Lawyer, is to go to this website and use their online form to get their help.
Once an illegal immigrant is located and you find out the facility where they are being held you need to find out the Deportation Officer that has been assigned to their case. The Officer can tell you how to call or visit the detainee, or pay for the detainee to be able to call you, or how you can send any needed items such as clothing, prescriptions, etc.
The last option, and the most expensive, is to hire an experienced immigration attorney to assist you in tracking down the Deportation Officer. If the person being detained requires specific medical care, an attorney can ensure that they receive that care.
If the detained illegal immigrant has been deported from America previously or has an outstanding removal order - in which case they have no right to see an immigration judge - they can be removed within a few days, or even hours, of the initial arrest.
Even if the government does not immediately remove the person, it is possible that they can be moved around to different Detention Centers. There is never a warning that a person is being moved around and during the transfer there is a complete blackout of any information.
How long are people held in ICE Immigration Detention Centers?
The time that an illegal immigrant is held in an ICE Detention Center can vary. It all depends on several factors such as the individual's personal situation, criminal record, the severity of the crime they are being charged with, previous deportations and the current caseload that the Detention Center is dealing with.
This image portrays the most recent data available on the time a detained illegal immigrant remains in custody before their release and/or deportation.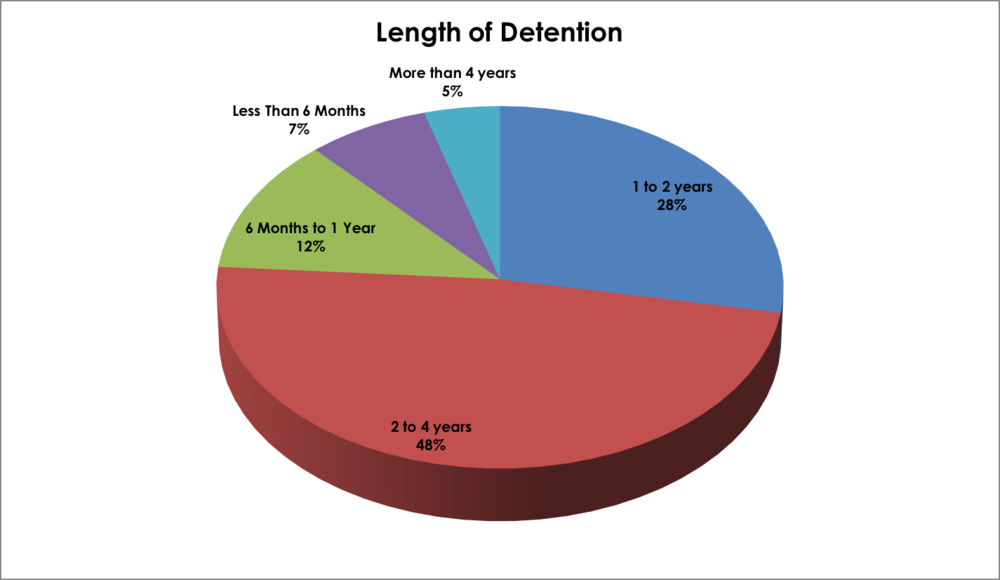 Can you visit someone in ICE Detention Centers?
The short answer is yes. The person visiting an illegal immigrant in an ICE Detention Center must be lawfully present in the United States. In other words the visitor must have some form of currently valid immigration status at the time of the visit. A detention center or jail will not allow the visit unless visitor can show valid I.D. and offer proof that they are lawfully in the United States.

If you want to become a volunteer that visits illegal immigrants in order to offer emotional support, it may be possible. You can join one of these visitation networks by going here and contacting the network in your area.
What crimes can cause an illegal immigrant to be deported?
(The following information comes from Nolo.com, a trusted legal resource)
Conviction of a crime involving moral turpitude (see list). This includes any attempt or conspiracy to commit such a crime. It does not include crimes that were committed that the illegal immigrant committed when they were under the age of 18 years, however the person must have been released from jail more than five years before applying for a visa or other immigration benefit. It also does not include crimes for which the maximum penalty did not exceed one year in prison and the person was not, in fact, sentenced to more than six months in prison.
Conviction or admission of a controlled substance violation, whether under U.S. or foreign law. This includes any conspiracy to commit such a crime.
Convictions for two or more crimes (other than purely political ones) for which the prison sentences totaled at least five years. This multiple-offense ground of inadmissibility applies whether or not the convictions came from a single trial and whether or not the offenses arose from a single scheme of misconduct or involved moral turpitude.
Conviction of or participation in (according to the reasonable belief of the U.S. government) controlled substance trafficking. This includes anyone who knowingly aided, abetted, assisted, conspired, or colluded in illicit drug trafficking. It also includes the spouse, son, or daughter of the inadmissible applicant if that person has, within the last five years, received any financial or other benefit from the illicit activities, and knew or reasonably should have known where the money or benefit came from.
Having the purpose of engaging in prostitution or commercialized vice upon coming to the United States, or a history, within the previous ten years, of having engaged in prostitution.
Procurement or attempted procurement or importation of prostitutes, directly or indirectly, or receipt of proceeds of prostitution, any of which occurred within the previous ten years.
Assertion of immunity from prosecution after committing a serious criminal offense in the U.S., if the person was thus able to depart the U.S. and has not since submitted fully to the jurisdiction of the relevant U.S. Court.
Commission of particularly severe violations of religious freedom while serving as a foreign government official.
Commission of or conspiracy to commit human trafficking offenses, within or outside the U.S., or being a knowing aider, abettor, assister, conspirator, or colluder with such a trafficker according to the knowledge or reasonable belief of the U.S. government. Also inadmissible are the spouse, son, or daughter the applicant if they, within the previous five years (but when older than children), received financial or other benefits from the illicit activity and knew or reasonably should have known that the money or other benefit came from the illicit activity.
Conviction of an aggravated felony, if the person was removed from the U.S. and seeks to return (this ground of inadmissibility lasts for 20 years)
Seeking to enter the U.S. to engage in money laundering, or a history of having laundered money, or having been (according to the knowledge of the U.S. government) a knowing aider, abettor, assister, conspirator, or colluder with money launderers.
These are the straightforward crimes that are mentioned in the immigration law. The statute also lists a number of security violations, such as involvement in espionage, sabotage, terrorism, Nazi persecution, totalitarian parties, and so forth.
Once an illegal immigrant is deported, how long before they can come back to the United States?
If an illegal immigrant has a deportation or removal order in their immigration file, it's possible that they won't be allowed to enter the U.S. for five, ten, or even 20 years.
The applicable law comes from Section 212 of the Immigration and Nationality Act (I.N.A.).
Five-Year Ban: If they were summarily removed or deported upon arrival at a U.S. port of entry because they were found inadmissible, or if they came to the U.S. but were immediately put into removal proceedings and then removed or deported, they may be ineligible to return to the U.S. for five years. The five-year ban also applies if they failed to show up for their removal hearing in the United States.
Ten-Year Ban: If a 'removal order' was issued at the conclusion of their removal hearing in Immigration Court, they may not be able to return for ten years after their removal or departure.
Twenty-Year Ban: If they were convicted of an aggravated felony or have received more than one order of removal, they are barred from returning to the U.S. for 20 years. And if they entered without permission after having been removed, or illegally reentered the U.S. after having previously been in the U.S. unlawfully for more than one year, they may be barred from entering the United States for 20 years or permanently.